Kenny's term "Bar-BQ Posse" kind of just means the behind-the-scenes group of people who either hang out with Kenny Casanova, or were learning from him the ropes of prowrestling in the wrestling world.
The actual term "Bar BQ Posse" came from in his days managing a comic book store chain in the now defunct Latham Circle Mall & Clifton Country Mall, probably stemming from a sauce choice for mall McNuggets. The term was later the name of a musical project with Kenny & his friend, screenwriter Vance Savage. Eventually, the term simply became loosely attached to Kenny's friends around the wrestling world – those who subscribed to his nonsense.
Here is a blog Kenny wrote about the term:
"The BarBQ Posse" From an article on the old WOHW web site's "Passion Pit Column"
One day, sad but true, Casanova will be a legend and fade away. If you subscribe to existentialism, you know that life can continue on Earth after you are gone. I have founded a group that aims to continue our values and beliefs and continue them here on Earth long after I am gone. An eternal life of nonsense is my goal.
I think it is safe to say that before I hang up my pink and powder blue wrestling boots, I have tickled the funny-side of a handful of people and my feather has rubbed off. I have really tried to make an impact and will continue to do so until the wrestling world has a safe haven of workers who are not afraid to look stupid in front of a large crowd. This bastion of bumbling buffoons is what I call The BarBQ Posse and they are the ones who embody everything that is CASANOVA.While I do not by any means imply or intend to take credit for the hard work and time that  many of my friends have put into their gimmicks, there have been a few I think I have really pushed to the limit to help them achieve a vision that they may not necessarily seen from day one, but alas, this push is only because I love 'em and want to see them do well and have fun doing it. I will cover a few case-histories in a moment on where I have imposed my foolish ways on my victims. But first I must digress and explain a bit how The BarBQ Posse works.
When a new worker that I have extensively worked with finally gets Casanovamania (for a lack of a better term) they finally recognize that outside of the ring, I live my gimmick. The wrestler is often puzzled by this but pleasantly surprised and though they do not know it… they secretly wish to do likewise.A lot of what you see from me at ringside is who I am. I am a big goofball, who enjoys making people laugh and I am not afraid to make fun of myself. I pretend I am a big ladies man, because I like that sick kind of humor, but I am actually really terrible with girls and have been since I was a little Kiddie Casanova. So I took this character flaw and bumped it up a million times and enhanced my persona. People seem to have no problem believing that I have problems with the chicks (the bastards!), so I try my hardest to make this concept even easier for them AND THEN act oblivious.
When approaching a newer wrestling talent, my pedagogy, that is, philosophy of teaching, is finding a role that a worker can live up to that is believable, entertaining and fun to perform in. But it has to do all three things or it is not always convincing. In many cases, the first instinct as a new wrestler is to try and live out a fantasy in the ring… to be who you are not… to live out a dream of being someone you cannot be in the real world. I have seen this hundreds of times. The problem is, when a new wrestler who is attempting to define their character tries to be totally serious in being the person they are not, this mindset does not translate well in the ring. They do not have the ring confidence, nor the experience to pull it off. The audience senses the invalidity in the persona and subsequently they lose interest.
BUTTERY BERT WILLIAMS – There have been other successes, but the ones who have remained close for years to come are the true members of The Posse. A great example is embodied in a somewhat pasty, lanky and occasional mullet-bearing grappler named Buttery Bert Williams.
I knew "Bigtime" Bert Williams had mic-skills and was coming to his own in the ring a few years back. I knew he could do a fun gimmick, but he often took himself way too seriously in the ring. Then one day after a show during a ritual feeding of Appletizers at Applebees, I saw the spark. I saw the little flicker of light that screamed BarBQ. The Buttery One did an impersonation of Koko B. Ware taking Booker T's place in the Hungry man Swanson TV dinner commercials. Bert said "A whole pound of Ribs, chicken and buttery mashed potatoes," in the Birdman's soulful buttery voice. I made him take this weird knock-off persona, add a little butter and go with it. Now The Butterman gets some of the biggest most buttery pops of all.
MARTY THE PARTY VAIN – The best illustration of total and full conversion to the "crazy-side" comes from the only student I ever fully trained with nobody else… Marty The Party Vain. Marty had potential, but wanted to do a pimp-esque George Jefferson-like gimmick called "O. Marty Vain", explaining that this name is what "girls would say in bed with him – oh."   I tried my hardest to help him understand that THE NAME IS EVERYTHING and a cheap gag like that would not be as good as the one I suggested (see above – and yes I made the name).So anyhow, my young apprentice, the same one who came up to me and introduced himself in a TSW locker room as I changed my tighty-whiteys, the same one who bought me a 20 piece chicken nuggets when I was totally broke, the same one who traveled to the distant continent of Jamaica to drink dirty bananas and defend the international hardcore Jamaican title, my young apprentice did what I told him. He studied countless tapes of Revenge Of The Nerds, Animal House and the like to perfect his character. We worked on fine-tuning the tiny details on countless road trips until a new star was born in a similar image to the Casanova; one who was not afraid to look stupid. Marty The Party Vain took the fraternity beer ball, kept running and look at him now….wah-lah…success!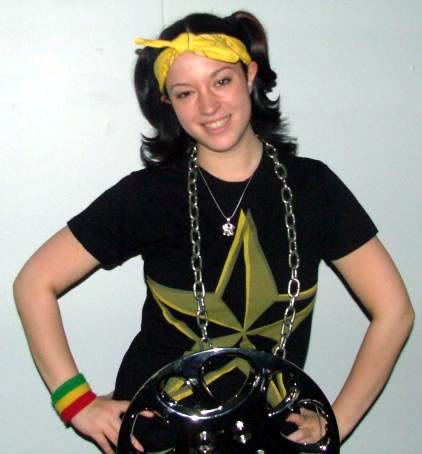 MISS DEVILLE – I had offered the Bar-BQ foolishness too many in moderation, but only a select few have been spoon fed CASANOVA in super-throat loads. Another victim, as some may know was Miss Deville, a wide-eyed innocent girl who walked into our WOHW school at I think 15 years old. A good girl with morals is hard to come by these days and she really has a love for the game.
However, before her, I never had influence on a girl student. At first. I didn;t think she would even get it. My humor was an acquired taste and very male-centric, as it is in any locker room. There had never been a full-fledged Bar-BQ Posse member of the female persuasion. Henceforth, as Bert said, "never had there been BarBQ with boobs." My challenge was to find one that I could pass the torch of foolishness over too in full female fruition. So I stressed storytelling with her. Showed her a bunch of public speaking tips and really pushed for her to become larger than life and more cartoony in her character portrayal in the ring.For many months she fought the onslaught of my "nonsense." She wanted to do a psycho-freak goth gimmick. She did her gimmick okay, HOWEVER, it was not original. Every girl on the indies did that.
Coaching Miss Deville for her first role in WOHW with me as her manager was a blast. I made her dress in a bright orange jumpsuit, as a jail inmate female tag partner to a prisoner tag team called, Deliverance. It was challenging but amusing. Kristen surprisingly caught on and listened. The nervous shy girl who wouldn't peck Tony Militia on the cheek in an interview (though I don't blame her) turned about face.
By the end of her first run, we broke her off to wrestle solo as a female rapper. While there had been other rap gimmicks, no one had done a cheesy white-girl from Brooklyn gimmick. She took the larger than life idea and ran with it. She engaged in full breakdance contests during intermission and  even competed in "Buttery Challenge" matches where the loser had to kiss BERT WILLIAMS. In short, unlike Marty who was naturally funny, she became really great at comedy through practice!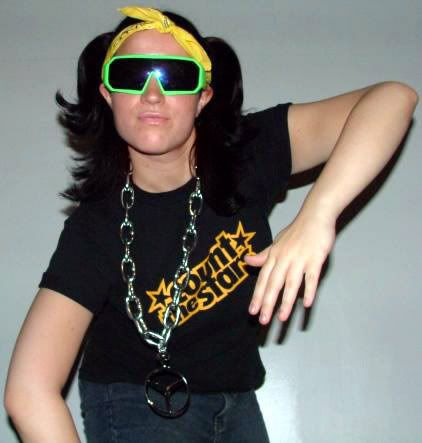 I know at times she has questioned the validity of her gimmick with me at ringside as her manager, but if she still hated it, she had me fooled. At an NWA: Green Mountain show, Deville came out of the curtain to a tiny crowd with the music kind of low (which is hard to dance to and lessens a worker's entrance ability as they make their way to the ring) and still got her groove on like she was performing for the world. This silly entrance showed me she was Bar BQ. Originally, she only wanted to sport the bling bling of Brooklyn at WOHW and wished to continue her goth-gimmick on other shows abroad. But she picked to do the gimmick on her own and it has us dying in the back. Who cares what the people think in the audience? If you can laugh at yourself… That was what Bar-BQ is all about.
Since The BarBQ Posse is an underground sect that spans across the nation and around the world, I had to check with other members before an induction ceremony for the first ever "Bar-BQ Babe." Head honchos included Sweet Pete (Thornn), Hotbod Todd, Marty The Party, Meathead Scalisi from the LA chapter, Scott Scarsdale, Shockwave, Slammin Dan Scroady, Buttery Bert, & many more. The vote was tough, but my nomination for Deville with full accreditation and benefits happened.
As with Bert and Marty, Deville is still a good friend today so many years later.